Whether you are a man seeking a woman, a woman seeking a man, or looking for an ideal partner to engage in romantically, LoveSwans.com is one of the leading platforms available online for your needs.
In this review, we've gathered every piece of information you need about this dating site, so you can gain an idea about its membership benefits, as well as various pros and cons. If you're considering to try hooking up with a wonderful partner via LoveSwans, this article is a good place to start for you to find out more.
First Impression
The LoveSwans.com home dashboard looks simple, minimalist in design, and appears easy to use. As soon as you successfully register and login, the home dashboard will show you profile thumbnails of potential dates you might be interested in.
The cool thing about these profile suggestions is that they already fit your main preferences in advance. During signup, you will be asked what qualities you are looking for in a date. Once you finish your registration, your membership dashboard will automatically give you suggestions that fit your preference.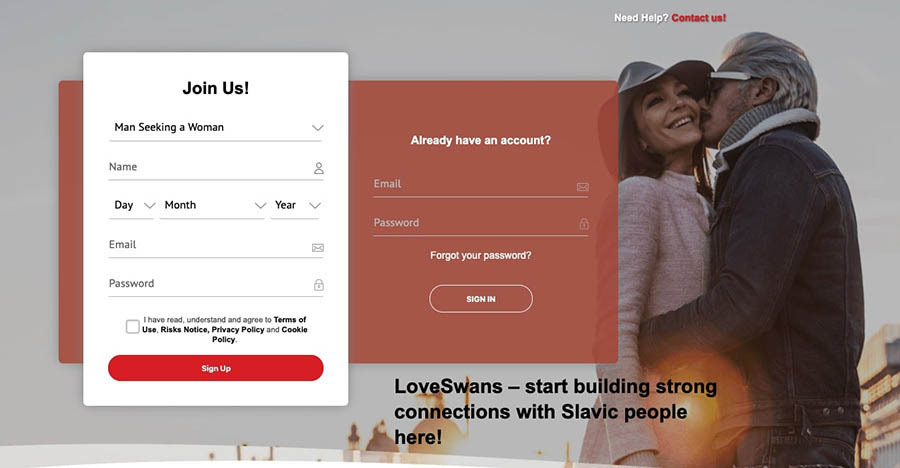 The overall vibe of the site is that it's a community where you can quickly find the type of date that you are looking for. There is no unnecessary clutter, annoying pop-up messages, and glittering messages all over the place. Just a quiet member's area with a simple menu. The main highlight of the home dashboard are the profiles of men of women you could be interested in.
Registration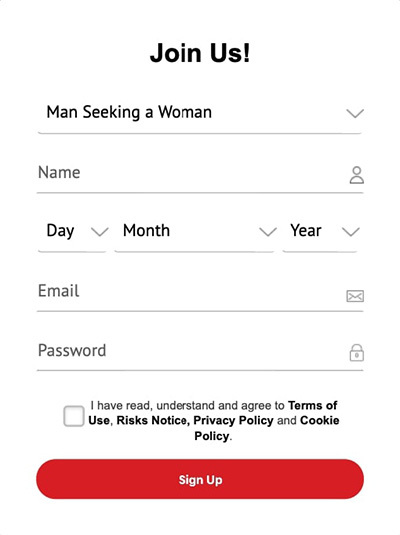 As soon as you register for a free account by giving your name, email, gender preference and birthday, you will be taken to a series of simple questions that will help the platform get an idea about your ideal date.
First, you'll be asked what kind of relationship you're looking for. Are you looking for a casual flirting and online flirting only? Or are you looking for a long term relationship or something that may lead to marriage? Answering these questions will really set the tone and basis for your site membership.
Another good question that is asked during the registration stage is whether you prefer someone who already has children. This is a major dealbreaker for some people looking for dates, so asking this question early on will help manage expectations.
Other details such as your date's age, weight, height, and body type are also asked. You will also be given a choice of whether you like someone who drinks or smokes, and to what extent. All these crucial questions are asked during the registration process and this is a good thing.
Search and Filter
The default filtered search results show the profiles that fit your criteria. From there, you can further filter the results using a variety of functions:
Who's Online
You can actually limit your search to people who are actively online. This is great if you're looking for instant responses and to quickly initiate conversations.
Only Validated
You can tick this checkbox so that the searches will only show people who have validated their profiles.
Age Range
You can change the date range anytime if you see that the results are showing more people who are a lot younger or older than you're looking for.Extend SearchThis advanced search feature will help you narrow down the list of profiles according to country, marital status, religion, educational level, and many other qualities.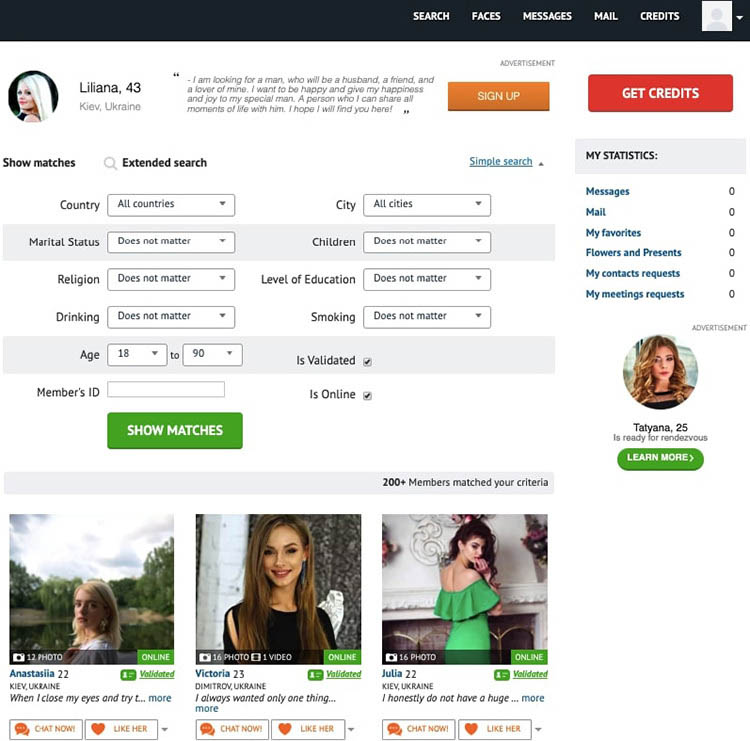 Communication
Communication is easy within the Love Swans dashboard. All you have to do is to click on the 'Messages' tab from the main menu of the member's area. This will enable you to see all your incoming messages.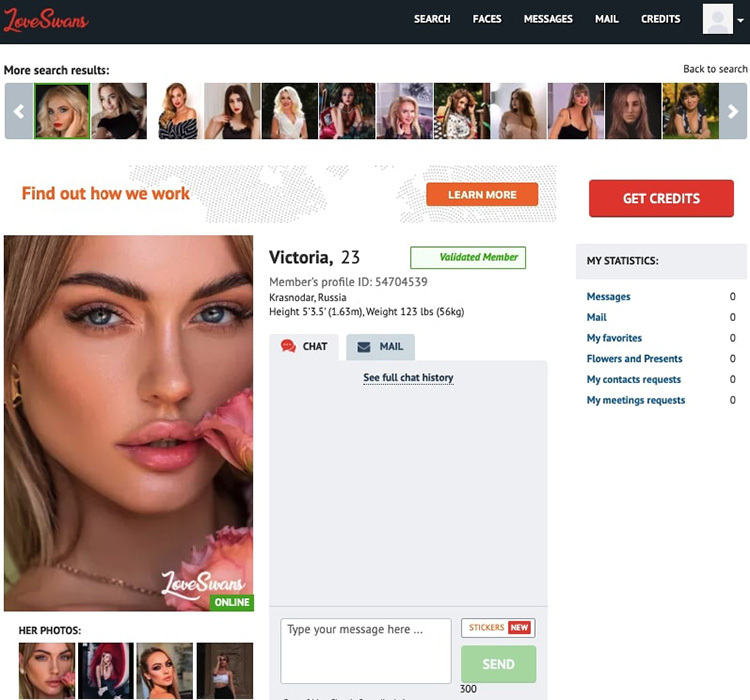 If you want to initiate contact with a promising connection, just click on the thumbnail profile picture of the person you're interested in. This will immediately take you to the main profile page of that person, where you will see a chat box that allows you to leave a message. There are lots of beautiful women on this site that you can strike a conversation with.
The catch? Well, you will need to purchase paid credits from Love Swans to be able to send your message! Pricing starts at $9.99 for 20 credits.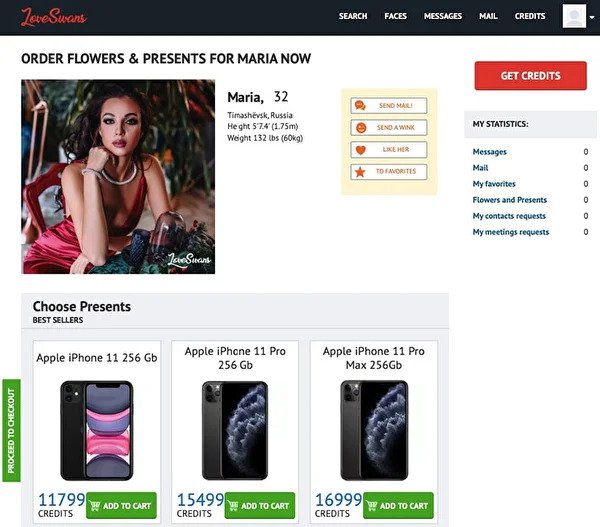 Mobile App
A quick search for "Love Swans" on the Apple Store and the Google Play Store does not show any mobile apps available. This means, at this point, it seems like Love Swans hasn't yet released an updated mobile app. Either that, or it's possible that the app is yet to be available for all countries.
However, the site itself is mobile optimized so you can easily access it from your phone or tablet.
What a Free Version Offers
Creating an account and navigating the member's area is free of charge. You only need to confirm your email address after account creation, and you're good to do.
The Loveswans.com website operates on a credits system. Instead of charging for a flat out monthly membership fee, you will need to load up on credits to be able to perform important actions within the site.
Paid Membership
As mentioned earlier, you need credits in order to chat with people you're interested in. On top of that, you need credits for pretty much everything that you can do on the site, such as:
Sending mail: 10 credits for 1 message, 30 credits for each consecutive letter.
Sending presents: Depends on the gift you want to send. You can send a variety of stuff, ranging from iPhones, perfume, roses, wine, chocolate, and many others.
Requesting contact info: To request for contact info from a person you found on Loveswan, you will need to have spent 3,000 credits on communication with that person.
Setting up a date: You need to spend 625 credits to send a meeting request with a lady. It takes 72 hours for this request to be processed and as soon as confirmed by the lady, the date will push thru.
Liking profiles and sending winks can be done free of charge.
Scam and Safety
Like on any other dating site, you have to be diligent and careful. Loveswans has ensured that there are strict verification processes for every member that joins. This is true for both those who are looking for a partner or want to be available for those who are looking. Loveswans appear to be operating safely and looks out for its members by offering customer support. You can email or chat their support team anytime you have a concern.
Pros and Cons of LoveSwans
| Pros | Cons |
| --- | --- |
| The site has clean minimalistic design, which makes it easy for you to find what you're looking for | Works on a credit system instead of a monthly membership fee. You can possibly end up paying more money if you're casting a wide net or want to talk to more people. |
| Account setup is free. There are no upfront charges | No mobile app |
| Signup process helps you indicate what kind of partner you are looking for | |
| Lots of attractive profiles on the site, especially women | |
| Filtering system is easy to navigate | |
| The site is easily accessible on all devices | |
Summary
Overall, LoveSwans.com appears to be a legitimate dating site with lots of attractive people you can potentially get to know more closely. Another major plus is that the site will give you many suggestions of people you might like, based on personal preferences you indicated in your profile settings.